[Gyeongsangbuk-do] 'Fokju', a leading company in the water industry, s…
Content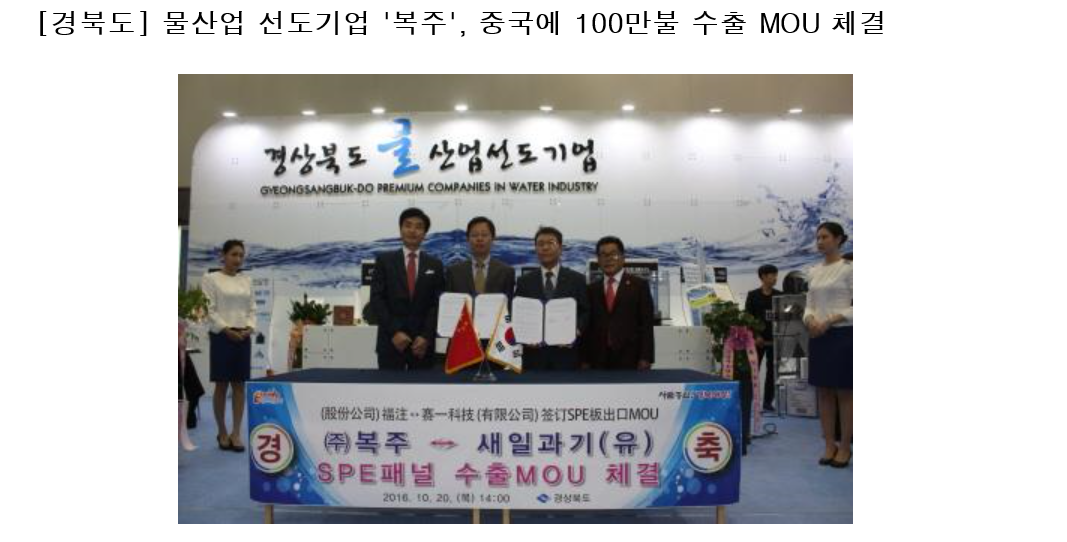 Gyeongsangbuk-do announced on the 20th that Bokju, a leading company in the water industry, signed an MOU with Saeil Technology Co., Ltd. of China to export SPE panels worth 1 million dollars at EXCO, where the Korea International Water Week is being held.
This MOU is said to have been made thanks to the fact that Bokju, which participated in Singapore Water Week in July last year, announced its products through an exhibition and provided export information and support policies of Gyeongbuk Province.
The SPE panel exported by Bokjoo Co., Ltd. is a product to which a patented new technology is applied by high-temperature melting and compression of polyethylene on stainless steel.
It is applied to Anmak and Pyeonghwa Reservoir in the Andong region and has proven its excellent durability and waterproofing effect. It is cheaper than existing stainless steel products, and the part that comes into contact with water is made of PE material, so it is harmless to the human body. It is attracting a lot of attention from buyers.
In April of this year, the company signed an export contract of 3 million dollars with Linetech Malaysia, and several export negotiations are underway, so additional exports are expected.
Saeil Chemical Co., Ltd., which is signing this MOU, is located in Shanghai, China, and manufactures water and sewage treatment facilities and disinfectant manufacturing facilities, and plans to apply SPE panels of Fuzhou Co., Ltd. to its products.
Qin Xaio, CEO of Saeil Technology Co., Ltd. said, "We signed an MOU after seeing the excellent quality and price competitiveness of Bokju, and we will expand our income based on the business performance."
The provincial government has been pushing for a water company export project from this year as the possibility of the water industry was confirmed through the Gyeongbuk World Water Forum last year.
By designating a water company with potential as a leading company, we support company-tailored export support, dispatch overseas market pioneering teams and participate in water industry exhibitions to develop overseas markets, and promote communication and cooperation between water companies along with R&D industry-university-research matching projects to strengthen product competitiveness. The council is organized and operated for Jeong Byeong-yoon, Deputy Governor of Gyeongsangbuk-do for Economy, said, "With the will to become a commando in the water industry, we are actively developing overseas markets, which is showing tangible results." We will grow into a leading small and medium-sized company."

[Source] [Gyeongsangbuk-do] 'Bokju', a leading company in the water industry, signs an MOU to export $1 million to China | Author waterjournal