Signed a export contract(MOU) with India company (USD2,000,000)
Content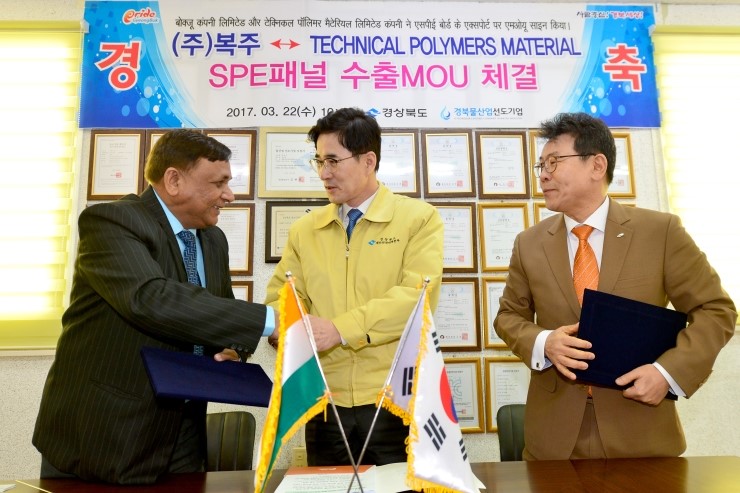 -> Signed a export contract(MOU) with India company (USD2,000,000)
Gyeongbuk Province announced on the 22nd that Bokju, a leading company in the Gyeongbuk water industry, has signed an MOU for exporting SPE panels worth 2 million dollars for two years with Indian Technical Polymers Material at the Andong factory site in Bokju.

This MOU is said to have been made thanks to the provincial export information provision and support policies, as well as promoting its products through the export consortium project in May of last year.

The SPE panel exported by Bokjoo Co., Ltd. is a product to which a patented new technology is applied by high-temperature melting and compression of polyethylene on stainless steel. It is attached to the water treatment structure and functions to waterproof and corrosion the inside.

It is applied to Andong Anmak and Pyeonghwa Reservoir and has proven its durability and waterproofing effect. It is cheaper than existing stainless steel products and is harmless to the human body as the part that comes into contact with water is made of PE material.

Technical Polymers Material, located in New Delhi, India, is a company that sells and constructs water treatment systems and related equipment.

Technical Polymers Material CEO Pankaj Kumar said, "We signed a business agreement after seeing the excellent quality and price competitiveness of Bokju.

In India, less than half of the 1.3 billion population receives water supply, and the water industry market is expected to grow at an average annual rate of 14% or more due to rapid urbanization. is the industry's analysis.

As the possibility of the water industry was confirmed through the '2015 Daegu-Gyeongbuk World Water Forum', the provincial government has been promoting the water company export project since this year.

By designating a water company with potential as a leading company, we support the development of overseas markets such as customized export support and participation in water industry exhibitions, and conduct research and development (R&D) industry, academia, and research matching projects to strengthen product competitiveness. The council is organized and operated for communication and cooperation.

Gyeongsangbuk-do Governor Kim Jang-ju, acting governor, said, "As a leading company in the water industry, it is showing concrete results as it is actively pioneering overseas markets. We will develop it into a small but strong company that

[Source] Bokju Co., Ltd.-India Technical Polymers Material, SPE panel 2 million USD export MOU signed | Author Kim Jong-hyun